Meet Our Partner: Tapcheck
PNI•HCM x Tapcheck: Earned Wage Access is a Smarter Way to Pay
Gain a competitive advantage in attracting top talent by utilizing a platform that significantly enhances your employees' financial well-being. Tapcheck diminishes financial stress within the workplace, resulting in increased employee satisfaction, productivity, and retention.
What is Earned Wage Access?
On-demand pay, known as Earned Wage Access (EWA), is revolutionizing the payroll framework.
With Earned Wage Access (EWA) employees are liberated from the constraints of conventional pay periods like weekly, bi-weekly, or monthly cycles.
Instead, with on-demand pay, they have the freedom to conveniently access a portion of their earned wages whenever they need. This flexibility empowers individuals to manage their finances more effectively, promoting financial well-being and satisfaction in the workforce.
78%
of employees pay bills on time with on-demand pay.
24/7
access to Learn, Tapcheck's online financial education wellness feature.
$1,300
annual savings per employee using Tapcheck.
4.6/5
Tapcheck app store rating.
Transforming the Employer-Employee Relationship
A Bit About Tapcheck
Tapcheck has developed a financial empowerment platform that empowers small, yet powerful HR teams to have a significant influence on the financial well-being of employees. By alleviating financial stress, workers can enhance their performance, experience greater happiness, and foster long-term loyalty.
Employees can't wait for payday. With Tapcheck, they don't have to.
Empower your employees with the freedom to choose when and how they receive their pay with Tapcheck Earned Wage Access. No effort required on your end. By having access to their hard-earned wages anytime, your workers can confidently manage unforeseen expenses that come their way. Moreover, they can break free from reliance on unfavorable financial alternatives, such as payday loans.
We make money smarts easy.
Financial education tools are available exclusively through the Tapcheck App, providing valuable tips, engaging courses, handy calculators, and insightful blog articles, covering topics ranging from budgeting and credit scores to buying a home and saving for retirement.
"Tapcheck is an excellent way for our employees to access funds when needed. The fee is much smaller than the more common services we are used to seeing. I would highly recommend this service to other visiting angels and other businesses as well."
"Before Tapcheck it was difficult. I would have had to ask a friend or family member. Now I don't have to worry about that!"
Discover the Possibilities & Enhance Employee Experience
The Benefits of On-Demand Pay for Your Business
When individuals are financially healthy, they perform better at work. When businesses are productive, they contribute to the local economy. When local economies are thriving, our society as a whole is stronger. Tapcheck is boosting business profitability and creating a world where wellness is a way of life.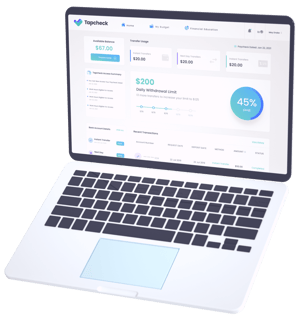 Enhance Your Enterprise-Level Performance
Increased Productivity
Stress-free employees offer better service and work more efficiently, leading to satisfied customers and increased revenues.
Lower HR Expenses
When employees feel valued by their employer, they stay longer and work harder, resulting in less turnover and lower training costs.
Higher Profits
Offering an earned wage access benefit not only amplifies employee productivity but also reduces HR-related expenses, thereby boosting company profits.
Transform each day into a fulfilling payday experience.
Tapcheck's on-demand pay benefit reduces employee financial stress for better performance at work. With Tapcheck, at no charge to your company, you can achieve measurable benefits
- without hurting your bottom line.
Request a Demo of Tapcheck