Learn About Our Integration with ZayZoon
ZayZoon: Earned Wage Access is Payroll for Today's Workforce
Win the war for talent with a platform that measurably improves your employee's financial well-being. By reducing financial stress in the workplace, ZayZoon makes employees happier, more productive, and likelier to stick around.
What is Earned Wage Access?
Earned Wage Access (EWA), also known as on-demand pay, is transforming the traditional payroll landscape.
With Earned Wage Access (EWA) employees are liberated from the constraints of conventional pay periods like weekly, bi-weekly, or monthly cycles.
Instead, with on-demand pay, they have the freedom to conveniently access a portion of their earned wages whenever they need. This flexibility empowers individuals to manage their finances more effectively, promoting financial well-being and satisfaction in the workforce.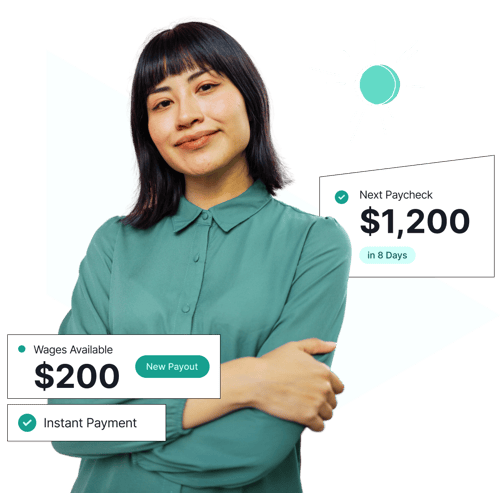 89%
of employees who use ZayZoon report less financial stress.
8 Hours
per month reduction in absenteeism per employee.
$727
annual savings per employee using ZayZoon.
4.9/5
ZayZoon app store rating.
Redefine the Employer-Employee Relationship
A Bit About ZayZoon
ZayZoon created a financial empowerment platform that helps small but mighty HR teams make a big impact on employee financial wellness. When workers aren't stressed about their finances, they perform better, are happier, and stick around longer.
Employees can't wait for payday. With ZayZoon, they don't have to.
Employees want to control when they get paid and how. With ZayZoon Earned Wage Access, they finally can—and you don't have to lift a finger. When payday's any day, workers get the cash flow they need to handle any unexpected expenses life tosses their way. Plus, they can finally stop relying on bad financial products like payday loans.
We help you help your employees save where they're already spending.
Whether it's putting food on the table or gas in the tank, ZayZoon Perks gives your team more impact for their money on the things they actually need.

We make money smarts easy.
89% of customers say ZayZoon Financial Wellness improves their financial health with educational courses, smart insights, and customized alerts that help them avoid minimum balance and overdraft fees.
"Implementing ZayZoon was seamless. I think I might have been the first paycheck advance requested. It was great. I got my hundred dollars right away, and it showed me where it would come off my next paycheck. I didn't have any hiccups at all."
Learn More

Download ZayZoon's Earned Wage Access Overview
One Financial Enablement Platform; Infinite Employee Benefits.
The benefits of On-Demand Pay for Your Business
ZayZoon simplifies and enhances your employee benefits package with on-demand pay, enticing perks, and comprehensive financial education.
On-demand pay brings control, financial stability, and benefits to your employees, helping you:
Attract Qualified Applicants
With Earned Wage Access, you'll attract 2x more applicants than your competitors.
Retain Your Employees
Businesses experience up to a 29% reduction in turnover thanks to Earned Wage Access.
Save Money
Tired of processing payroll advances? On-demand pay is no charge, and we handle everything for you.