Optimizing Business Processes with Managed Payroll
Managed Payroll is a comprehensive approach that helps companies streamline their salary payment procedures, guaranteeing workers are compensated accurately and promptly. It involves outsourcing your company's payroll management to a service provider who handles all aspects of the process, from calculating wages and withholding taxes to depositing pay into employees' bank accounts.
In this article, we will delve deeper into the benefits of managed payroll services, including how they can alleviate administrative burdens and enhance compliance with government agencies. We'll also discuss factors employers should consider when deciding whether or not to adopt managed Payroll for their organization.
Finally, we will introduce PNI•HCM's innovative solutions in Managed Payroll—designed with advanced features for effective business process outsourcing. Stay tuned as we explore how these offerings can revolutionize your approach to managing your company's most important asset: its workforce.
Table of Contents:
What is Managed Payroll?
Managed Payroll is like having a personal assistant for your payroll needs. It's a comprehensive solution that automates and streamlines collecting employee pay and taxes.
No more headaches or confusion.
Third-party providers like isolved People Cloud powered by PNI, take over the complex tasks of payroll processing, saving businesses time, reducing errors, ensuring accuracy, and maintaining regulatory compliance.
Our Managed Payroll services are tailored to the individual client's needs so they can look different from business to business.
Theresa Bratcher, PNI•HCM's Managed Payroll Manager handles day to day client needs.
"I'm the team manager and have three team members under me currently," she said. "Each of us has between 35-40 clients under our belt, and we do their payroll and anything else they may need us to do."
"Sometimes the client wants us to initiate the onboarding process, while some may wish for us to bring the new hire all the way in. We also handle employee time files, whether they're sent via fax or email. Once it's in, we review the last payroll reports compared to the most recent payroll report," Bratcher explained.
The Components of Managed Payroll
Tax Management:

Automatic calculation of federal, state, and local taxes and filing tax returns on behalf of the company.

Direct Deposit:

Employees can receive their wages directly into their bank accounts without needing paper checks.

Data Integration:

All relevant data, such as hours worked, is integrated seamlessly into the system for accurate paycheck calculations.

Paperless Options:

Digital pay slips provide convenience while reducing environmental impact.
A robust managed payroll system should also offer features like online timesheets to track employee hours easily. Additionally, some plans may include human resources functions such as benefits administration or performance management - creating a holistic approach to Human Capital Management (HCM).
Given the accelerated pace of modern business, optimizing efficiency is paramount. That's why PNI's HCM software, by isolved People Cloud, takes care of your entire employee lifecycle under one platform - providing you peace of mind knowing your managed payroll needs are handled professionally and efficiently.
Benefits of Managed Payroll
Managed Payroll is a popular concept and an indispensable tool for businesses that want to optimize their operations. It offers numerous benefits that can significantly impact your organization's bottom line and employee satisfaction.
#1. Saves Time & Money
The first significant benefit of managed Payroll is time savings. Automating repetitive tasks such as tax filing makes payroll processing faster and more efficient. This means less time spent on administrative duties, freeing up resources for other critical business functions. Additionally, with automation comes cost reduction - fewer errors mean less money wasted on rectifications.
#2. Reduces Errors
A well-implemented managed payroll system reduces the likelihood of human error in calculations or data entry. The software does all the heavy lifting, ensuring accurate computations every single time.
#3. Promotes Timely Payments
No one likes delayed paychecks. With automated direct deposit payments enabled by managed payroll solutions like PNI's HCM software powered by isolved People Cloud, employees receive their salaries promptly every pay period - enhancing job satisfaction and morale within your workforce.
#4. Streamlines Processes
A comprehensive solution like PNI's HCM platform allows you to manage everything from online timesheets to taxes in one place - creating a seamless workflow that simplifies your HR processes exponentially.
"Some of our clients with smaller companies have one person doing everything, and they don't have the time or the resources to do payroll. Having our team as an additional set of eyes alleviates worries from our clients so they can focus on other aspects of their business," Bratcher said.
Is Managed Payroll Right for Your Business?
Deciding whether to outsource your payroll management can take time and effort.
Here are a few factors to consider when making this critical decision:
Company Size Matters
If your company is growing rapidly or already has many employees, managing Payroll in-house can quickly become a nightmare. That's where managed payroll services like PNI's solution powered by isolved People Cloud come in handy.
Complexity is Key
Every business has unique payroll requirements. If your organization has complex pay scales and bonus structures or operates across multiple states or countries with varying tax laws, outsourcing to a managed payroll service might be the way to go.
Time is Money
Payroll administration can be tedious and labor-intensive, demanding careful consideration of all details. Suppose you need help to keep up with the time-consuming and detail-oriented payroll management. In that case, outsourcing may be a viable option for reducing errors while freeing up resources to focus on core business activities.
Outsourcing your payroll management can save you time, money, and headaches. So, if you're ready to take the leap, check out PNI's solution powered by isolved People Cloud and see how they can help streamline your payroll processes.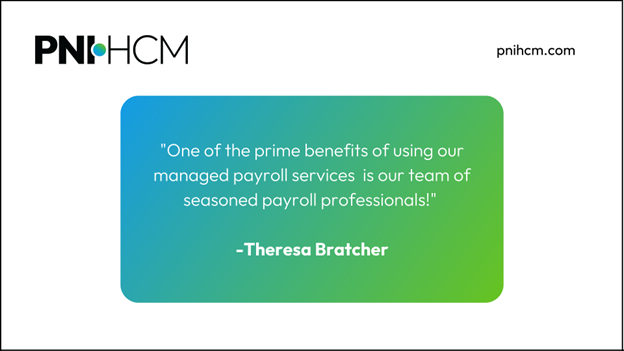 Streamline Your Payroll Processes with PNI's HCM Software
If you're ready to simplify the payroll management process, PNI's Human Capital Management (HCM) software may be your answer. Our Human Capital Management (HCM) software, isolved People Cloud, offers a comprehensive platform to handle all aspects of payroll management.
We'll Help You Automate Tax Filing
With PNI's HCM software, you can say goodbye to the headache of calculating and filing taxes manually. Our system automatically calculates, deducts, and files all necessary federal, state, and local taxes for your business. Our automated system eliminates the stress of manual calculations and filing. It reduces potential errors or missed deadlines, allowing you to focus on Direct Deposit Payments for a hassle-free transaction.
Make Direct Deposit Payments
Forget about the hassle of physical checks or cash transactions. PNI's HCM software offers direct deposit payments, making it easy to ensure accurate and timely payment for every team member.
Provide Online Timesheets
Tracking work hours has always been challenging with our online timesheet feature. Employees can log their hours directly into the system, which feeds into payroll calculations for accurate payment based on actual hours worked.
But that's not all - PNI's managed payroll solutions offer detailed reporting capabilities for improved transparency and decision-making. Our HCM software can integrate with other HR systems, such as benefits administration or talent management modules within the isolved People Cloud HCM platform.
Whether you run a small startup or a large corporation, PNI's managed payroll solutions can help you efficiently manage employee payrolls while reducing potential errors. So why wait? Make the switch to PNI today.
FAQs about Managed Payroll
What is Managed Payroll?
Managed Payroll refers to outsourcing your company's payroll processing tasks, including calculating wages and tax withholdings, issuing checks, and ensuring compliance with tax laws.
How do you effectively manage payroll services?
To effectively manage payroll services, it's crucial to maintain accurate records, stay updated on labor laws and regulations, automate processes using software like PNI's isolved People Cloud, and ensure timely payments.
How difficult is it to manage payroll?
The difficulty in managing payroll depends on factors such as the organization's size, the complexity of wage structures, and regulatory requirements. Outsourcing can simplify this process significantly.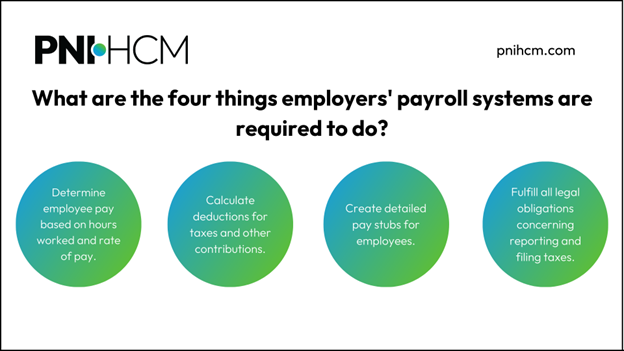 In Conclusion
Streamline your payroll processes and reduce the risk of errors by utilizing Managed Payroll, a valuable service for businesses of all sizes.
Outsourcing payroll tasks to experts in the field can save you time and money while ensuring compliance with all applicable laws and regulations. Consider your company size, budget, and HR resources when deciding if managed Payroll is right for your organization.
PNI•HCM offers comprehensive solutions for managed payroll that can be tailored to meet your unique needs. Let us assist you in discovering the ideal managed payroll solution for your organization!